Links page
---


Check out Willow's Page of Bugginess!


Check out The Sombrero Club, where all the grasshoppers hang out.

Click here to visit a site belonging to Silver, another muck-dweller. It isn't based on ABL, but he does have some Bug's Life and muck themed pictures in his gallery.




Discover the world through a bug's eye view!

Come see more of the quirky antics of these strange muck-dwellers at Basil's site!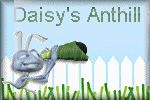 Come see Daisy's Anthill!
If you have a Bug's Life or a Bug's Muck site you wish for me to add to the list, email me and send me the URL and if possible, a banner as well.
If you wish to link to my page, link to http://tirade.tripod.com/bugs/


---
Back